Image
October 23, 2020
3:30PM - 4:30PM
Date Range
Add to Calendar
2020-10-23 14:30:00
2020-10-23 15:30:00
Douglass Schumacher - Relativistic Laser Plasma Interactions, the OSU Scarlet Laser, and LaserNetUS
Optical Science Monthly Webinar Series   Relativistic Laser Plasma Interactions, the OSU Scarlet Laser, and LaserNetUS Douglass Schumacher, The Ohio State University   Abstract: The interaction between light and matter becomes relativistic near the unearthly intensity of 1018 W/cm2 for near infrared light. Above this intensity, the directly illuminated electrons spend part of their motion travelling near the speed of light. If the illumination is brief, the matter maintains some kind of structure and fascinating interactions take place. It's a strange system where temperatures hotter than the sun and pressures exceeding a billion atmospheres can be present. Interesting applications have emerged and intense laser driven plasmas have been configured as electron accelerators producing energetic (10 GeV) electron beams in a few centimeters or generating useful beams of protons, neutrons, and even positrons. The OSU Scarlet laser packs 10 J of energy into a 30 femtosecond duration pulse focused to a fraction of the thickness of a hair, achieving peak intensities well above 1021 W/cm2 and permitting exploration of the highly relativistic regime. Working with nine other high power laser facilities and funded by the Department of Energy, we have established the nation's first high power laser network, LaserNetUS, which provides run time to national and international researchers on a competitive basis. In a talk aimed at a broad audience, I'll discuss why I think the interaction between intense light and matter is so interesting and so useful, how we perform experiments in this regime, some of our findings, and I'll look at the bright future of high power laser based science.   Webinar Link: https://osu.zoom.us/j/92992997852?pwd=ZlA2TzM4UXlLa3NyOSsza2dXa040UT09 Password: 548408   This event is free and open to the public.   Watch the recorded webinar here   Subscribe to our email list here
Zoom Webinar
OSU ASC Drupal 8
ascwebservices@osu.edu
America/New_York
public
Date Range
Add to Calendar
2020-10-23 15:30:00
2020-10-23 16:30:00
Douglass Schumacher - Relativistic Laser Plasma Interactions, the OSU Scarlet Laser, and LaserNetUS
Optical Science Monthly Webinar Series   Relativistic Laser Plasma Interactions, the OSU Scarlet Laser, and LaserNetUS Douglass Schumacher, The Ohio State University   Abstract: The interaction between light and matter becomes relativistic near the unearthly intensity of 1018 W/cm2 for near infrared light. Above this intensity, the directly illuminated electrons spend part of their motion travelling near the speed of light. If the illumination is brief, the matter maintains some kind of structure and fascinating interactions take place. It's a strange system where temperatures hotter than the sun and pressures exceeding a billion atmospheres can be present. Interesting applications have emerged and intense laser driven plasmas have been configured as electron accelerators producing energetic (10 GeV) electron beams in a few centimeters or generating useful beams of protons, neutrons, and even positrons. The OSU Scarlet laser packs 10 J of energy into a 30 femtosecond duration pulse focused to a fraction of the thickness of a hair, achieving peak intensities well above 1021 W/cm2 and permitting exploration of the highly relativistic regime. Working with nine other high power laser facilities and funded by the Department of Energy, we have established the nation's first high power laser network, LaserNetUS, which provides run time to national and international researchers on a competitive basis. In a talk aimed at a broad audience, I'll discuss why I think the interaction between intense light and matter is so interesting and so useful, how we perform experiments in this regime, some of our findings, and I'll look at the bright future of high power laser based science.   Webinar Link:  https://osu.zoom.us/j/92992997852?pwd=ZlA2TzM4UXlLa3NyOSsza2dXa040UT09 Password: 548408   This event is free and open to the public.   Watch the recorded webinar here   Subscribe to our email list here
Zoom Webinar
Institute for Optical Science
spectroscopy@osu.edu
America/New_York
public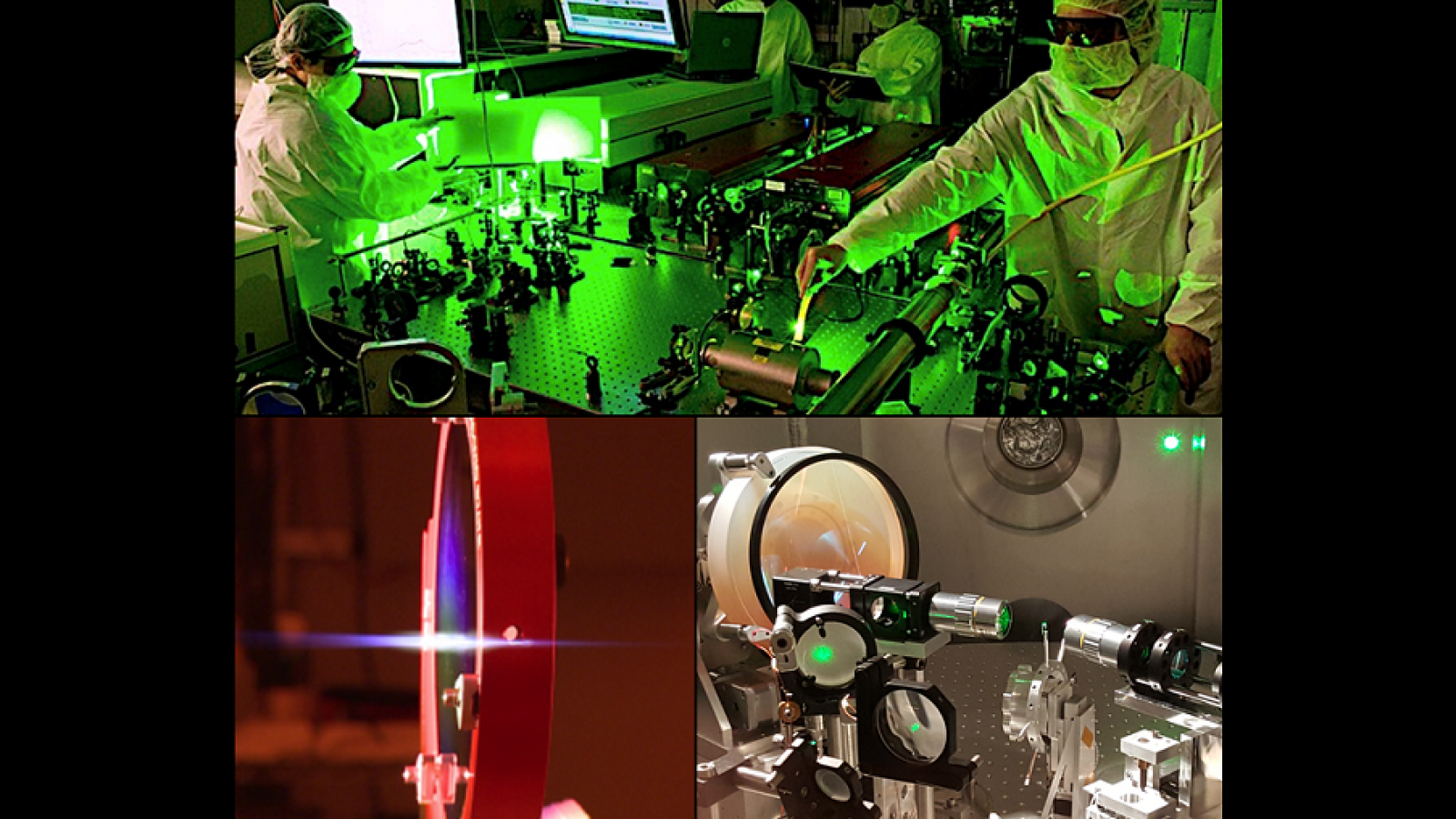 Description
Optical Science Monthly Webinar Series
Relativistic Laser Plasma Interactions, the OSU Scarlet Laser, and LaserNetUS
Douglass Schumacher, The Ohio State University
Abstract:
The interaction between light and matter becomes relativistic near the unearthly intensity of 1018 W/cm2 for near infrared light. Above this intensity, the directly illuminated electrons spend part of their motion travelling near the speed of light. If the illumination is brief, the matter maintains some kind of structure and fascinating interactions take place. It's a strange system where temperatures hotter than the sun and pressures exceeding a billion atmospheres can be present. Interesting applications have emerged and intense laser driven plasmas have been configured as electron accelerators producing energetic (10 GeV) electron beams in a few centimeters or generating useful beams of protons, neutrons, and even positrons. The OSU Scarlet laser packs 10 J of energy into a 30 femtosecond duration pulse focused to a fraction of the thickness of a hair, achieving peak intensities well above 1021 W/cm2 and permitting exploration of the highly relativistic regime. Working with nine other high power laser facilities and funded by the Department of Energy, we have established the nation's first high power laser network, LaserNetUS, which provides run time to national and international researchers on a competitive basis. In a talk aimed at a broad audience, I'll discuss why I think the interaction between intense light and matter is so interesting and so useful, how we perform experiments in this regime, some of our findings, and I'll look at the bright future of high power laser based science.
Webinar Link: 
https://osu.zoom.us/j/92992997852?pwd=ZlA2TzM4UXlLa3NyOSsza2dXa040UT09
Password: 548408
This event is free and open to the public.
Subscribe to our email list here
---