Image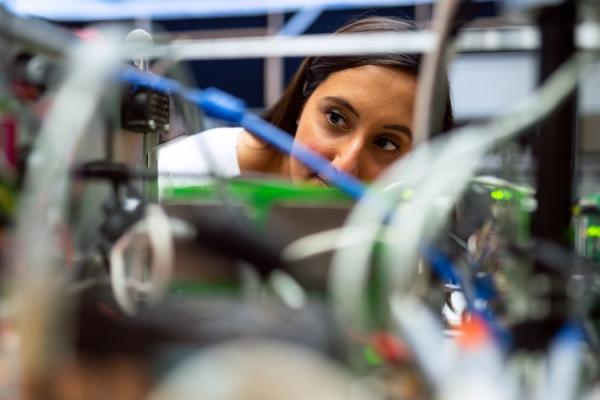 March 29, 2023
10:00AM - 11:30AM
Location
Registration Link in Description
Date Range
Add to Calendar
2023-03-29 10:00:00
2023-03-29 11:30:00
X-lites Panel Discussion: User Community
X-lites Discussion Panel: User Community Wednesday, March 29 2023, 10:00AM - 11:30 AM EDT Register HERE   This event is one in a series of panel discussions designed to support and engage with staff and management at "extreme light" facilities around the world. Representatives from various facilities and networks will share their experience and insight on the facility user community. Facility users and the experiments they conduct are the central purpose of extreme light facilities. Our facilities are looking to engage a broad spectrum of users, enable them to explore their ideas, and provide feedback to the facilities. Discussions will be on how to effectively engage and attract users, provide necessary training and support to users, collect and address users' feedback, and consider what facility practices might best support users. Discussion chair: Dr. Mingsheng Wei (Laboratory for Laser Energetics / OMEGA) Panel members: Prof. Sylvie Jacquemot (LULI / Laserlab-Europe), Prof. Louise Willingale (U. Michigan / ZEUS) and Dr. Sophia Chen (ELI-NP)   10am - 11am EDT Panel Discussion 11am - 11:30am EDT "Water Cooler" Discussion   Please join us and help us to spread the word!   Registration Link: https://zoom.us/meeting/register/tJwqduGgqTgqGtGdC73DSECTP6_hBR5uHBc2   To learn more about X-Lites: go.osu.edu/x-lites    Subscribe for Event Notifications X-lites Main Menu  
Registration Link in Description
OSU ASC Drupal 8
ascwebservices@osu.edu
America/New_York
public
Date Range
Add to Calendar
2023-03-29 10:00:00
2023-03-29 11:30:00
X-lites Panel Discussion: User Community
X-lites Discussion Panel: User Community Wednesday, March 29 2023, 10:00AM - 11:30 AM EDT Register HERE   This event is one in a series of panel discussions designed to support and engage with staff and management at "extreme light" facilities around the world. Representatives from various facilities and networks will share their experience and insight on the facility user community. Facility users and the experiments they conduct are the central purpose of extreme light facilities. Our facilities are looking to engage a broad spectrum of users, enable them to explore their ideas, and provide feedback to the facilities. Discussions will be on how to effectively engage and attract users, provide necessary training and support to users, collect and address users' feedback, and consider what facility practices might best support users. Discussion chair: Dr. Mingsheng Wei (Laboratory for Laser Energetics / OMEGA) Panel members: Prof. Sylvie Jacquemot (LULI / Laserlab-Europe), Prof. Louise Willingale (U. Michigan / ZEUS) and Dr. Sophia Chen (ELI-NP)   10am - 11am EDT Panel Discussion 11am - 11:30am EDT "Water Cooler" Discussion   Please join us and help us to spread the word!   Registration Link: https://zoom.us/meeting/register/tJwqduGgqTgqGtGdC73DSECTP6_hBR5uHBc2   To learn more about X-Lites: go.osu.edu/x-lites    Subscribe for Event Notifications X-lites Main Menu  
Registration Link in Description
Institute for Optical Science
spectroscopy@osu.edu
America/New_York
public
Description
X-lites Discussion Panel: User Community
Wednesday, March 29 2023, 10:00AM - 11:30 AM EDT
This event is one in a series of panel discussions designed to support and engage with staff and management at "extreme light" facilities around the world.
Representatives from various facilities and networks will share their experience and insight on the facility user community. Facility users and the experiments they conduct are the central purpose of extreme light facilities. Our facilities are looking to engage a broad spectrum of users, enable them to explore their ideas, and provide feedback to the facilities. Discussions will be on how to effectively engage and attract users, provide necessary training and support to users, collect and address users' feedback, and consider what facility practices might best support users.

Discussion chair: Dr. Mingsheng Wei (Laboratory for Laser Energetics / OMEGA)
Panel members: Prof. Sylvie Jacquemot (LULI / Laserlab-Europe), Prof. Louise Willingale (U. Michigan / ZEUS) and Dr. Sophia Chen (ELI-NP)
10am - 11am EDT Panel Discussion
11am - 11:30am EDT "Water Cooler" Discussion
Please join us and help us to spread the word!
Registration Link:
https://zoom.us/meeting/register/tJwqduGgqTgqGtGdC73DSECTP6_hBR5uHBc2
To learn more about X-Lites: go.osu.edu/x-lites 
Subscribe for Event Notifications
---