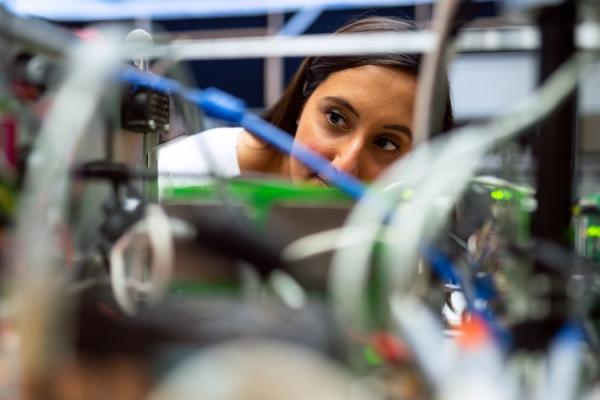 February 16, 2023
10:00AM - 11:30AM
Registration Link in Description
Add to Calendar
2023-02-16 11:00:00
2023-02-16 12:30:00
X-lites User Facility Panel: Extreme Light Optical Systems
X-lites User Facility Panel: Strategies and Tips for Operating and Maintaining an Extreme Light Optical System at a User Facility Thursday, Feb. 16 2023, 10:00AM - 11:30 AM EDT   Please join us for a discussion of how user facilities are balancing the demands of operating complex optical systems with the need to support users and their experiments.   The panel will include Dr. Subhendu Kahaly (head of the Secondary Sources Division at ELI-ALPS) and Dr. Sudeep Banerjee (Principal Research Scientist at KLA Tencor and formerly with the Arizona State University CXFEL). Bring your thoughts and questions to share.   10am - 11am EDT Panel Discussion 11am - 11:30am EDT "Water Cooler" Discussion   Please join us and help us to spread the word!   Click here to view the recording of the main talk Check here for Part 2 - Water Cooler Discussion    To learn more about X-Lites: go.osu.edu/x-lites    Subscribe for Event Notifications X-lites Main Menu  
Registration Link in Description
OSU ASC Drupal 8
ascwebservices@osu.edu
America/New_York
public
Date Range
Add to Calendar
2023-02-16 10:00:00
2023-02-16 11:30:00
X-lites User Facility Panel: Extreme Light Optical Systems
X-lites User Facility Panel: Strategies and Tips for Operating and Maintaining an Extreme Light Optical System at a User Facility Thursday, Feb. 16 2023, 10:00AM - 11:30 AM EDT   Please join us for a discussion of how user facilities are balancing the demands of operating complex optical systems with the need to support users and their experiments.   The panel will include Dr. Subhendu Kahaly (head of the Secondary Sources Division at ELI-ALPS) and Dr. Sudeep Banerjee (Principal Research Scientist at KLA Tencor and formerly with the Arizona State University CXFEL). Bring your thoughts and questions to share.   10am - 11am EDT Panel Discussion 11am - 11:30am EDT "Water Cooler" Discussion   Please join us and help us to spread the word!   Click here to view the recording of the main talk Check here for Part 2 - Water Cooler Discussion    To learn more about X-Lites: go.osu.edu/x-lites    Subscribe for Event Notifications X-lites Main Menu  
Registration Link in Description
Institute for Optical Science
spectroscopy@osu.edu
America/New_York
public
X-lites User Facility Panel: Strategies and Tips for Operating and Maintaining an Extreme Light Optical System at a User Facility
Thursday, Feb. 16 2023, 10:00AM - 11:30 AM EDT
Please join us for a discussion of how user facilities are balancing the demands of operating complex optical systems with the need to support users and their experiments.
The panel will include Dr. Subhendu Kahaly (head of the Secondary Sources Division at ELI-ALPS) and Dr. Sudeep Banerjee (Principal Research Scientist at KLA Tencor and formerly with the Arizona State University CXFEL). Bring your thoughts and questions to share.
10am - 11am EDT Panel Discussion
11am - 11:30am EDT "Water Cooler" Discussion
Please join us and help us to spread the word!
Click here to view the recording of the main talk
Check here for Part 2 - Water Cooler Discussion 
To learn more about X-Lites: go.osu.edu/x-lites 
Subscribe for Event Notifications
---