June 21, 2022
Institute Deputy Director, Robert Baker, Awarded Fulbright Fellowship
Image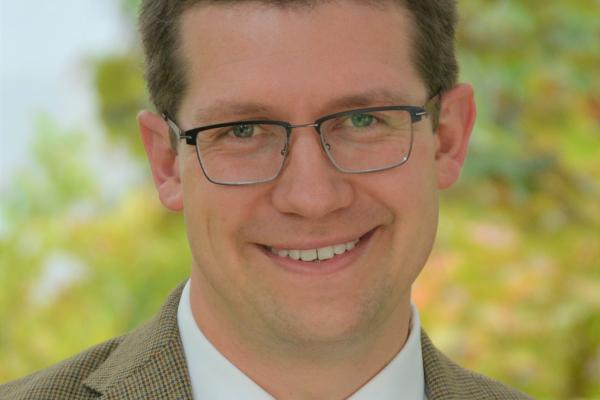 Description
Robert Baker, associate professor in the Department of Chemistry and Biochemistry and Co-Director of NSF NeXUS, has been awarded a 2022-2023 Fulbright John Von Neumann Distinguished Award in STEM to Hungary to advance the study of ultrafast, high intensity laser science and foster collaboration between international research communities.
From February – May 2023, Baker will be working closely with scientists at the Extreme Light Infrastructure Attosecond Light Pulse Source (ELI-ALPS) in developing new techniques to study electron dynamics in solar energy conversion materials. ELI-ALPS is a flagship research institute in Szeged, Hungary focused on generating XUV light with extremely short, attosecond pulse durations. These very short pulses of light allow researchers to observe electrons as they move through materials on time scales shorter than 1 billionth of 1 millionth of a second.
"This research is closely related to the NSF NeXUS project at Ohio State," noted Baker, who co-directs NSF NeXUS. "As sister institutes in Europe and the U.S., ELI-ALPS and NeXUS provide a unique opportunity for international collaboration to advance the frontiers of ultrafast science."
Baker will collaborate with Péter Dombi at ELI-ALPS to develop XUV sum frequency generation as a new tool to study electron dynamics at buried material interfaces. "These dynamics are at the heart of many solar energy conversion processes, and the ability to visualize electron motion at buried interfaces is a long-standing challenge in chemistry, physics, and materials science," Baker explained.
"In addition to these experiments, this Fulbright award will support interactions with scientists and staff at ELI-ALPS with the goal of building a bridge between researchers in Europe and the U.S. who are coalescing around the recent infrastructure investments at ELI-ALPS and NeXUS."
Baked explained, "This Fulbright U.S. Scholar award will also enhance the mission of the Ohio State Institute for Optical Science. The institute is committed to fostering community, connectivity, education, and engagement between researchers in the optical sciences. This award will facilitate these efforts by forming a strong a connection and ongoing collaboration between international research communities in the U.S. and Hungary with a shared interest in ultrafast, high intensity laser science."
The Fulbright Scholar Program is administered by the Council for International Exchange of Scholars and is sponsored by the Bureau of Educational and Cultural Affairs of the U.S. Department of State.
For more information about the Fulbright U.S. Scholar Program, contact Joanna Kukielka-Blaser.
---