April 7, 2023
Institute for Optical Science to Present & Moderate at STEAM Exchange!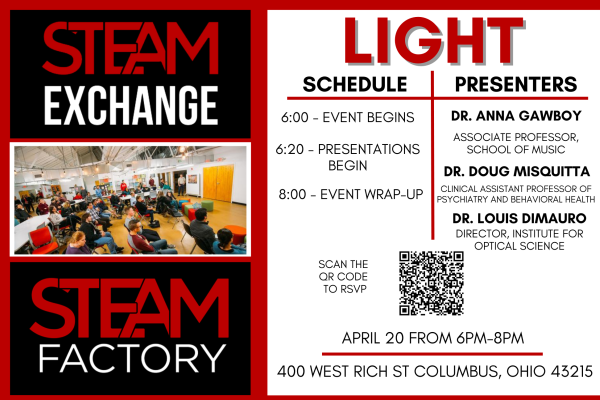 The Institute of Optical Science will moderate and present at the STEAM Exchange event on April 20th 2023
You are warmly invited to join us for the second STEAM Exchange of 2023, Topic: Light from 6-8pm on April 20th at the STEAM Factory!! These monthly salon-style seminars provide an excellent opportunity to meet scholars from across the university for a lively, engaging, informative, disciplinarily diverse, and well-catered evening! These events are a fun way to learn from other academics, share research interests, engage in a broad array of lively conversations, connect with new (and existing) colleagues, and discover new possibilities, ideas, and collaborators.
Details:
•        What: April STEAM Exchange, Topic: Light
•        When: 6 - 8pm on Thursday, April 20th, 2023
•        Where: The STEAM Factory, 2nd floor of 400 W. Rich Street, Columbus, Ohio 43215. Free and accessible parking is readily available at the building.
Presenters on Light, moderated by Jessi Middleton:
•        Dr. Anna Gawboy - Associate Professor, School of Music, The Ohio State University
•        Dr. Doug Misquitta - Clinical Assistant Professor of Psychiatry and Behavioral Health, The Ohio State University
•        Dr. Louis DiMauro - Director, Institute for Optical Science, The Ohio State University
STEAM Exchange Schedule:
6:00pm – Evening begins: networking, dinner and conversations
6:20pm – Presentations begin
8:00pm – Event wrap-up
_____________
What are STEAM Exchanges?
STEAM Exchanges are monthly salon-style seminars centered around broad thematic topics and hosted by the STEAM Factory. Our monthly themed interdisciplinary seminars known as STEAM Exchanges bring multiple disciplines perspectives to bear on a single subject such as Conflict, Progress, or Bias.  Diverse speakers are invited to present on their research and discipline as it relates to the monthly thematic topic. These discussions are intended to highlight current research, bringing multiple disciplinary perspectives to bear on a single issue with the purpose of enhancing scholarly community and sense of belonging, identifying opportunities for cross-collaboration, encourage the sharing of individual expertise, tools and resources and to enhance teaching and facilitate professional development.
Benefits of attending and presenting at STEAM Exchanges:
•        Learn and share current research endeavors across disciplines on a single topical issue
•        Share tools, resources and data sets to enhance research and teaching methods
•        Identify possibilities and contacts for cross-collaboration on research topics
•        Fun, interesting and engaging way of making research connections
---